2020+ GT500 1000R Supercharged
Turn Key Package Price
$19,999
1000

WHP on E85

5.4 secs

60-130 MPH

700+

FT LBS on E85
Speed Built Right
Engineered to perfection
Making your dreams a reality
"These cars are meant to be driven, so enjoy the hell out of it all - not just the look of it when its all clean" - Carroll Shelby
DynoJet Research
Figures Don't Lie
Max Power 1022 at Engine RPM = 7.76
Max Torque 727 at Engine RPM = 5.67
1000R Owner's Manual
Each build comes with its own Fathouse Performance Owner's Manual that documents everything that was done to the vehicle along with maintenance/operation procedures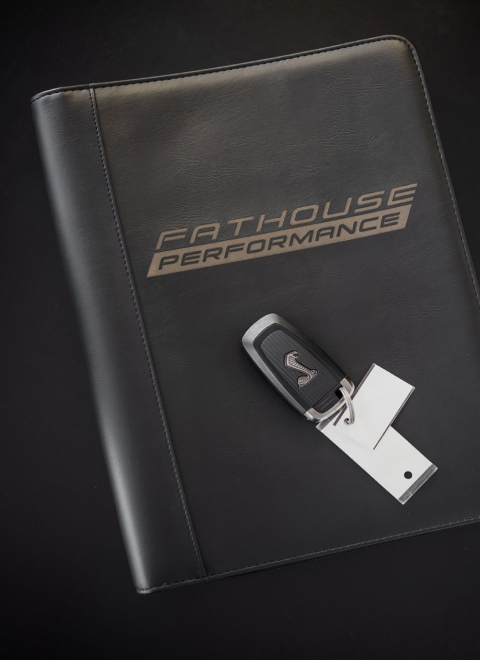 (01)

JLT Cold Air Intake

(02)

Stainless Works Long Tube Headers

(03)

Ceramic High Temperature Header Coating

(04)

Stage 8 Locking Header Bolts

(05)

ID1300x Fuel Injectors

(06)

Griptec Supercharger Pulley

(07)

Kong Ported Supercharger

(08)

Kong 108mm Billet Throttle Body

(09)

Whipple Upgraded High Flow Intercooler

(10)

Whipple Billet Intercooler Inlet

(11)

Fathouse Fab Coolant Tank

(12)

Fathouse Performance Billet Coil Covers

(13)

JLT Catch Can System (if not equipped with Ford Performance oil separator)

(14)

NGK Spark Plugs

(15)

AMSOIL 5w50 Full Synthetic Oil Change

(16)

Toyo R888R Tires

(17)

Professional Installation

(18)

Johnson Tuning Dyno Calibration

Each car is tuned precisely on our DynoJet chassis dyno by Johnson Tuning. Corbin Johnson is the premier forced induction tuner for the late model Ford platform. No one has more experience in high horsepower turbo applications.

(19)

1000R Badging

(20)

1000R Owner's Manual

(21)

Serial # Build Plaque

(22)

"Optional" MoTeC M150 Package

True Flex Fuel
Variable Traction Control
Power Adjustment via Factory Drive Modes
Engine Failsafes
Ghost Cam
Boost by Gear
Introducing the game-changing Fathouse Performance Shelby GT500 1000 Horsepower Package. Developed by renowned performance experts, this package is the epitome of automotive ingenuity, pushing the boundaries of power and performance to exhilarating new heights.
At the heart of this awe-inspiring package lies a reimagined powertrain that sets pulses racing. The iconic Shelby GT500's stock 5.2-liter supercharged V8 engine is meticulously upgraded and fine-tuned to unleash an astounding 1000 horsepower. Fathouse Performance engineers work their magic, incorporating a range of carefully selected enhancements, such as high-flow air intake systems, upgraded fuel injectors, a custom-tuned ECU, and a ported supercharger with a Griptech pulley, upgraded intercooler, larger throttle body, and longtube headers to deliver unrivaled power and torque throughout the RPM range.
To harness the full potential of the 1000 horsepower beast, Fathouse Performance offers option MoTeC M150 packages that add features like true Flex Fuel, Boost by Gear, and Advanced Traction Control to name a few.
The Fathouse Performance 1000 Horsepower Package doesn't stop at performance enhancements; it also offers a range of visually striking modifications. The package includes Fathouse Performance Coolant tank and Billet Coil Covers to finish off the look under the hood.  Fathouse offers an array of carbon fiber body enhancements, such as a front splitter, rear diffuser, and side skirts, which not only enhance aerodynamics but also lend a menacing and purposeful presence to the GT500. Additionally, a variety of wheel and tire options are available to further enhance the car's stance and grip on the road.
In summary, the Fathouse Performance 1000 Horsepower Package for the Shelby GT500 Mustang is the ultimate expression of power, performance, and craftsmanship. With its mind-bending horsepower, finely-tuned suspension, aggressive styling, and luxurious interior, this package sets a new standard for high-performance vehicles. Brace yourself for an unparalleled driving experience that will leave you breathless and redefine your expectations of what a Mustang can achieve.
Just in case 1000 horsepower isnt enough for you we offer twin turbo packages as well!  Check out the 1400R Shelby GT500 Twin Turbo package by Fathouse Performance!
Schedule Your Build
Schedule form for Engine Package pages