Shelby GT350 1000R Twin Turbo Package
Turn Key Package Price
$69,999
802

WHP on 93 Oct

5.5 secs

60–130 MPH

980

WHP on E85
Speed Built Right
Engineered to perfection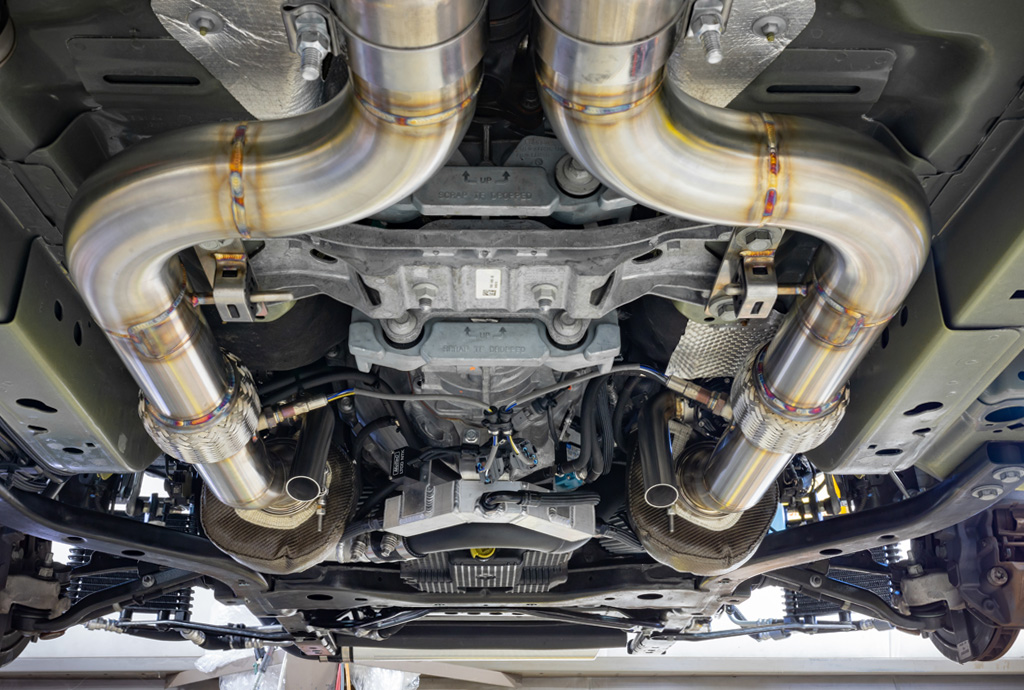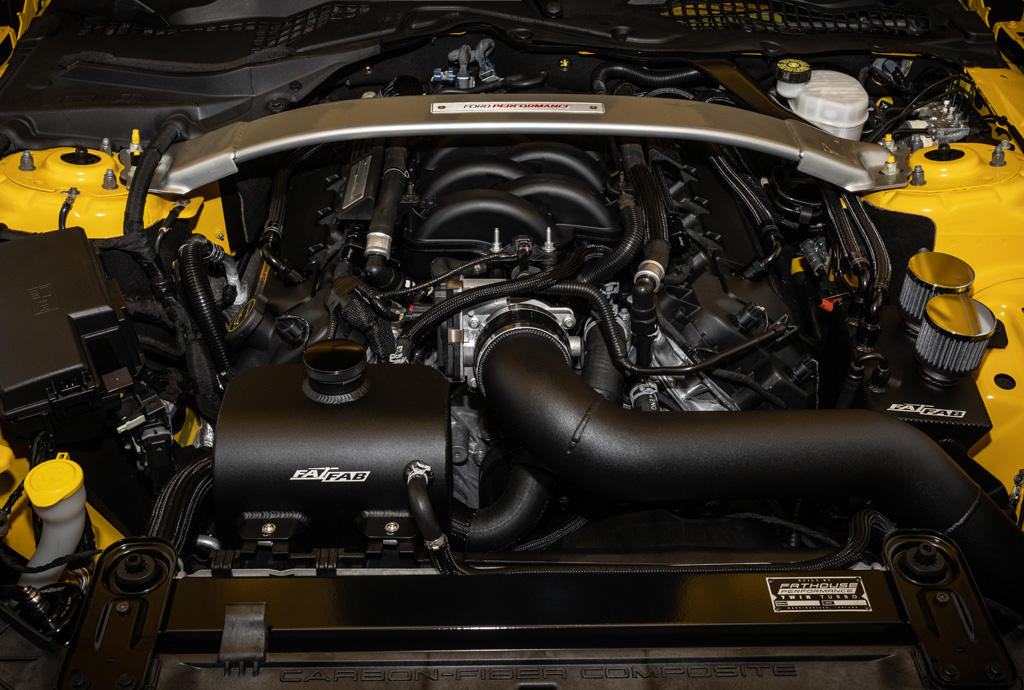 Made in the USA
The highest quality materials possible
Making your dreams a reality
"These cars are meant to be driven, so enjoy the hell out of it all - not just the look of it when its all clean" - Carroll Shelby
DynoJet Research
Figures Don't Lie
Max Power 972 at Engine RPM = 7.77
Max Torque 699 at Engine RPM = 7.06
1000R Owner's Manual
Each build comes with its own Fathouse Performance Owner's Manual that documents everything that was done to the vehicle along with maintenance/operation procedures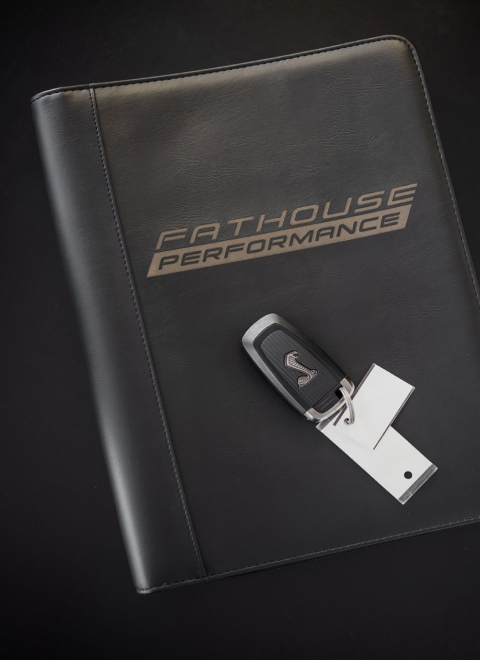 (01)

Custom Fabricated Stainless Steel Turbo Headers

Our turbo headers are built with strength and durability in mind. We start with heavy wall 304 stainless steel tubing that is mandrel bent to our custom specifications. Each tube is hand fit into our billet head flange and billet collector in a CNC machined fixture to insure precise fitment every time.

(02)

Titanium Turbo Header Blankets

Heat protection is very important, especially so in a turbo application. We have custom designed turbo heat protection blankets to keep the heat inside the header where it belongs. This not only protect your car and the components around the header it also keeps the turbos spooling up fast!

(03)

Xona Rotor Dual Ball Bearing Turbochargers

Xona Rotor turbochargers are engineered, manufactured and assembled in the USA. This is more than mere pride. By controlling every aspect of what goes into our turbochargers, we hold tighter tolerances, include premium materials and develop advanced manufacturing techniques. The result? Peerless turbochargers.

(04)

Custom Turbo Air Filters

(05)

Titanium Turbo Blankets

(06)

Custom Fabricated Stainless Downpipes

We hand build every turbo exhaust to fit perfectly on your car. Each system is food grade stainless steel polished both inside and out for optimal flow and aesthetics. All systems are backpurge tig welded for superior strength.

(07)

4.5" Air-to-Air Intercooler w/ Billet End Tanks

Symmetrical billet intercooler tanks peak through your grill to make sure everyone knows you have something mean hiding under the hood

(08)

Powder Coated Intercooler Piping

(09)

TSS Billet Oil Pump Gears

(10)

Fathouse Fab Race Catch Can

(11)

Fathouse Fab Coolant Tank

(12)

Fathouse Performance Billet Coil Covers

(13)

MoTeC M150 ECU

(14)

Johnson Tuning Flex Fuel Dyno Calibration

Each car is tuned precisely on our DynoJet chassis dyno by Johnson Tuning. Corbin Johnson is the premier forced induction tuner for the late model Ford platform. No one has more experience in high horsepower turbo applications.

(15)

Purpose Built Scavenge System

(16)

ID1300x Fuel Injectors

(17)

Twin Pump Return Style Fuel System

(18)

TiAL MVS Wastegates

(19)

TiAL Q Blow Off Valve

(20)

Stainless Works 3" Exhaust System

(21)

MGW Short Throw Shifter

(22)

RPS Triple Disc Carbon Clutch

(23)

QA1 Carbon Fiber Driveshaft

(24)

Anti-Wheel Hop Suspension Package

(25)

1000R Billet Weighted Shift Knob

(26)

1000R Badging

(27)

1000R Owner's Manual
Introducing the awe-inspiring Fathouse Performance Shelby GT350 1000 Horsepower Twin Turbo Package, a true testament to engineering excellence and raw power. Designed for the discerning enthusiast seeking uncompromising performance, this package transforms the legendary Shelby GT350 into an automotive marvel, capable of delivering mind-blowing acceleration and exhilaration on demand.
At the heart of this incredible package lies a meticulously designed and finely tuned twin-turbocharged system. Fathouse Performance engineers have carefully integrated twin turbochargers into the GT350's 5.2-liter V8 engine, extracting every ounce of performance potential. Through a combination of precision engineering and expert calibration, this twin-turbo setup generates a staggering 1000 horsepower to the wheels, propelling the GT350 to new levels of speed and excitement.
To ensure the utmost reliability and drivability, the Fathouse Performance team leaves no stone unturned when it comes to supporting modifications. Upgraded fuel system, a high-flow intercooler system, a robust engine management system, and upgraded oil pump gears are all part of the comprehensive package. This cohesive integration ensures that the twin-turbo system performs flawlessly while maintaining the durability and reliability expected from the Shelby GT350.
To harness the full potential of the 1000 horsepower beast, Fathouse Performance utilizes a MoTeC M150 packages that add features like true Flex Fuel, Boost by Gear, and Advanced Traction Control to name a few.  The GT350's chassis and suspension also receive a host of carefully selected upgrades. Fathouse Performance enhances the vehicle's handling characteristics with a custom curated anti-wheel hop kit, and upgraded bushings.  The factory Michelin tires are also replace with Toyo R888R tires. These modifications work in perfect harmony, providing unparalleled cornering ability, improved traction, and razor-sharp responsiveness, enabling drivers to push the limits of performance with confidence.
Optional carbon fiber body enhancements, such as a front splitter, side skirts, and a rear diffuser, not only enhance aerodynamics but also lend a purposeful and aggressive look to the vehicle. The package can be further personalized with various wheel and tire options, allowing enthusiasts to create a unique and captivating presence on the road.
In summary, the Fathouse Performance Shelby GT350 1000 Horsepower Twin Turbo Package represents the pinnacle of automotive performance. With its meticulously engineered twin-turbo system, enhanced suspension, and striking aesthetics, this package transforms the GT350 into a supercar-rivaling powerhouse. Prepare to be enthralled by an adrenaline-fueled driving experience that combines blistering speed, precise handling, and uncompromising style, pushing the boundaries of what a Mustang can achieve.
Schedule Your Build
Schedule form for Engine Package pages